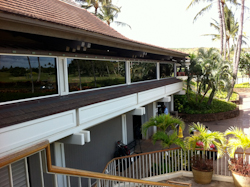 Another task best left to an expert is the clearing of debris from clogged rain gutters.
In order to properly clear rain gutters, it is sometimes necessary to access the gutters from ladders or the roof of the home, which can be dangerous without the proper safety equipment.
Clogged gutters can cause damage to your home by overflowing and possibly breaking away from the fascia boards on your home.
Tradewind Window Cleaners of Orange County  can clean your rain gutters and remove debris that is preventing your rain gutters from draining properly.